Only one more month of beautiful summertime here on 30A, can you believe it? For many, kids are already heading back to school - but for the many who relocated here or are extending their summer vacations - there's a little more summer heat left! Speaking of heat, the 30A real estate market has been on absolute FIRE for the last 14+ months... but where are we at today?
Well, it may surprise you that today we are reporting the first notable MARKET DROP in terms of properties sold and properties put under contract since April/May of last year. That's right. But what does this mean? Does it mean we should prepare for a market correction? Well, from the viewpoint of a real estate broker and professionals at Live 30A specializing in 30A real estate itself... here's our thoughts short and to the point.
"Although sales for July are down 41% from July 2020, It's a simple adjustment towards pre-pandemic numbers, well within the expected number of closed sales and pending contracts."
Here's our market Report in visual terms. You can also find on our instagram page @Live30a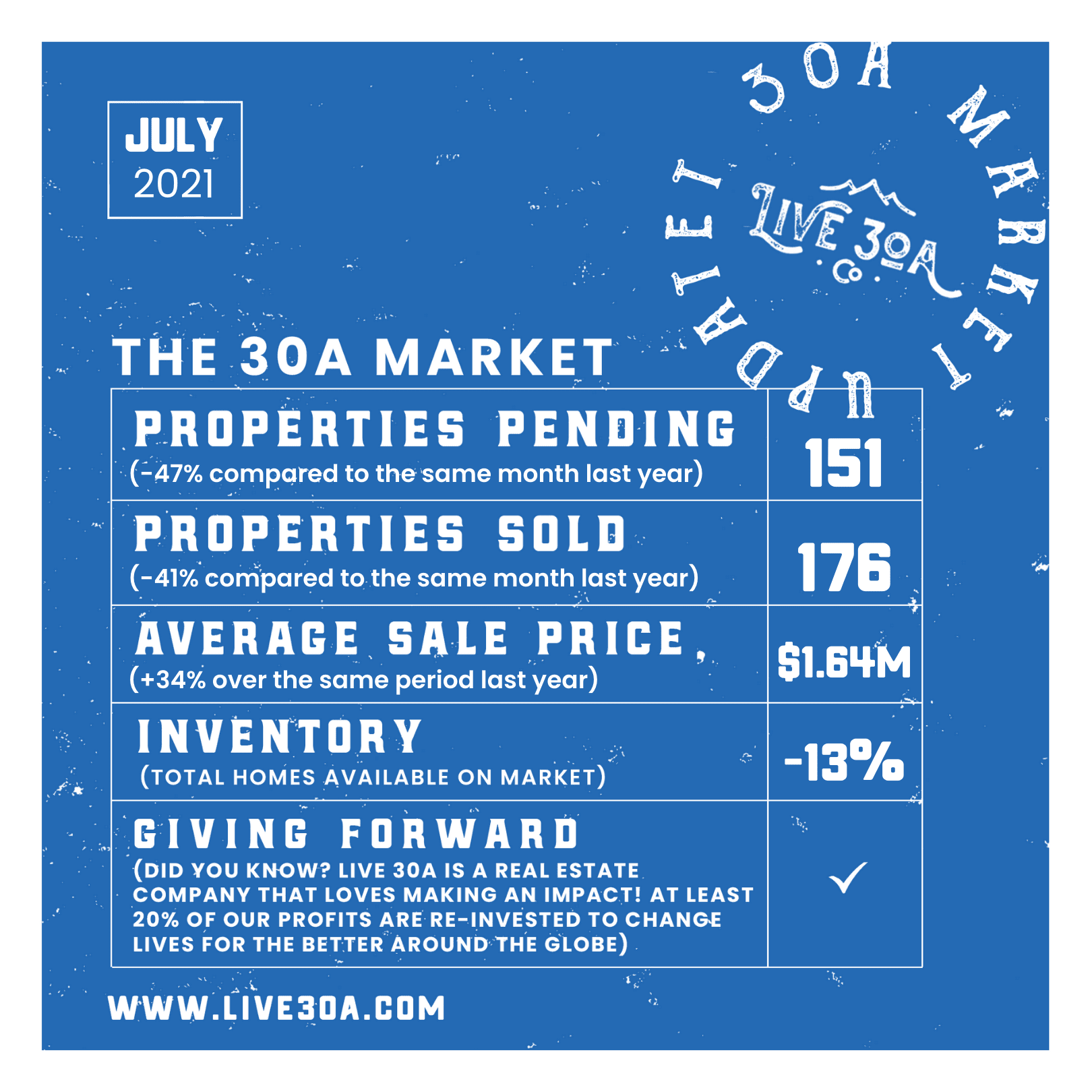 2020 and 2021 have been huge for the 30A real estate market in every way as multitudes made the decision to invest where they vacation and buy real estate in one of the south's hottest vacation locations. As a place for family vacation and a special place in so many hearts (and an area people are speculating massive growth in the future) many found the wonderful opportunity to purchase a "piece of the pie" for family generations ahead. Over the past 14+ months, many factors have contributed to an influx of buyers to Florida and the 30A area for both pure investment, primary residences, second homes, and vacation homes. Today, we are seeing numbers begin to return to pre-pandemic levels.
For example: While sales this July were down 41% over last year this time, they are still notable higher than 2019 sales of 111 or 2018's July sales of 113. It's the same story with pending contracts, etc.
When's a Good Time to Buy My 30a Property?
This area is such a special place. We know that. You know that. That's probably why you're looking and still reading. From our vantage point, we see this area still at the edge of the growth this area will one day see. While much of our area is preserved beautifully by state parks, state forests, wetlands, and dedicated areas -- We will see a significant improvement in infrastructure, quality development, and construction coming to the area bringing delicious places to grab a bite, amazing home ownership opportunities, and many improvements to the things you love -- and the things you don't so much.
Over the next years, I'm sure we'll see the ups and downs of every market. That's how real estate works, but looking from the perspective of 5-10 years+, this area is so hard to beat when it comes to investment because the area is so beloved by so many in the major cities on this side of the US. More direct flights will be coming, easier access is on it's way, and 30A is still being discovered by so many that love what this area is about.
Our prayer and fight is that this area will develop in a way that continues to build into what makes this community so wonderfully unique. Because we don't just love 30A, we #Live30A