Fall here at the beach is an incredibly mild & comfortable time of year, perfect for beach bonfires, beach days, and camping here! (Yes, there's amazing camping opportunities here in South Walton) - And over the past 18 months or so, the real estate market here has been something for the books: An incredible amount of sales, value growth, and new developments have sprouted up for the growing demand. Fueled by an incredible white-sandy beach, quick access for southern cities, viable rental income opportunity, long-range outlook of valuation, and a beautifully free state (thanks, Governor) - The Florida Panhandle, and especially the South Walton area (were iconic "30A" is located) has become a beautiful opportunity for families to invest in their legacy.

So after an 18 month + stretch of increased sales, and after a very active summer, where are we now that it's fall time? What are we seeing, and what can be expected next in the 30A real estate market?


October 2021 30A Real Estate Market Snapshot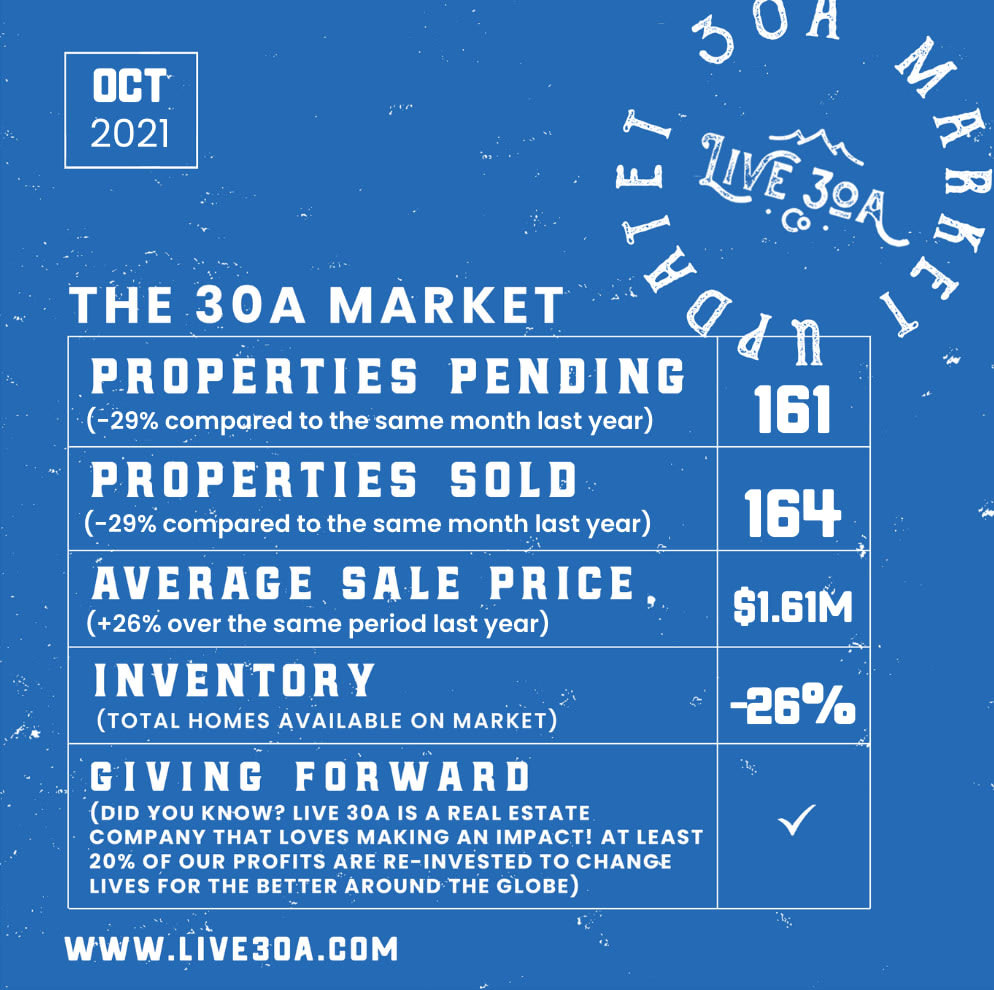 The number of properties that have gone under contract (pending) and the number that have successfully closed are down 29% year over year from last October, but overall are at healthy and "normal" numbers.
The overall inventory/number of properties available on the market is rising back to reasonable and more healthy numbers, similar to where we were around November - December last year. For perspective, the lowest point of inventory was March this year - and today, we are about 40% higher total $ inventory today.
Negotiations are beginning to pick back up again. After a season of sellers being in relative complete control of negotiations, on average, we are seeing list price to sell price ratio's settle around 97-98%. Meaning that buyers are "on average" getting 2-3% off of asking price. At one point, this was 100-105%, as many buyers were having to pay above asking price to get the home.
What Can I Expect if I Purchase a Home This Fall on 30A?
Numbers returning to "normal" does not mean that prices will go down. What this does mean is that we can start to see more normal trends come back into play and sellers to become much more realistic. Expect to be able to negotiate on the price just a little but, unless the property is brand-new to market and looks great. You can reasonably expect to close before Christmas to enjoy your beach home for the holidays, which also gives you time to do a few key updates, personalization, and begin marketing your home for vacation renters in the spring.
Expect home prices to continue to slowly increase on average, and for some homes that have been sitting on the market for some time to finally have some negotiability or price drops. Often, sellers after the summertime would like to close before end of year and/or have their sights on being in a different 30A home by springtime.
To be in the best position for negotiations on your home, be sure to get your ducks in a row for financing or purchasing cash and be willing to close on the sellers timeline. Keeping the offer as clean as possible will give you your best position.
What Can I Expect if I Plan to Wait and Purchase in the Springtime 2022?
If purchasing in the springtime, buying early in the year still gives you time to place a contract on a property and close before spring rental income hits the books. This is important, because for obvious reasons, once a seller starts collecting on rental income, it's a little harder for them to let go and the result is two-fold: They like keeping their rental income (they don't want to negotiate as much) and you're losing out on rental income each week (less rental income collected). Also, by the springtime 2022, you can reasonably expect to pay at least a few % points higher on the overall price of the home, and you'll also need to factor in potential higher interest rates coming at the turn of the year.
Interested in Buying a Family Beach Home Here on 30a?
Begin Your Search Here
&
Email Us Here for Your Copy of Our 30a Buyers Guide