Buying your 30A dream vacation home is a beautiful journey to embark on - starting the search, connecting with a 30A Realtor, deep talks with your spouse about what you need most and what matters, thinking about the future memories that you'll make, discovering new opportunities, narrowing down options, and finally selecting the One!
Here below, we take a few minutes to share our professional opinions to help guide you through the 30A real estate market report for July, August, and September 2021.
Curated 30A Real Estate Market Report Q3
30A East: Inlet Beach, Rosemary Beach, Seacrest Beach, Alys Beach, Seacrest, Watersound Beach, Seagrove, Watercolor, Seaside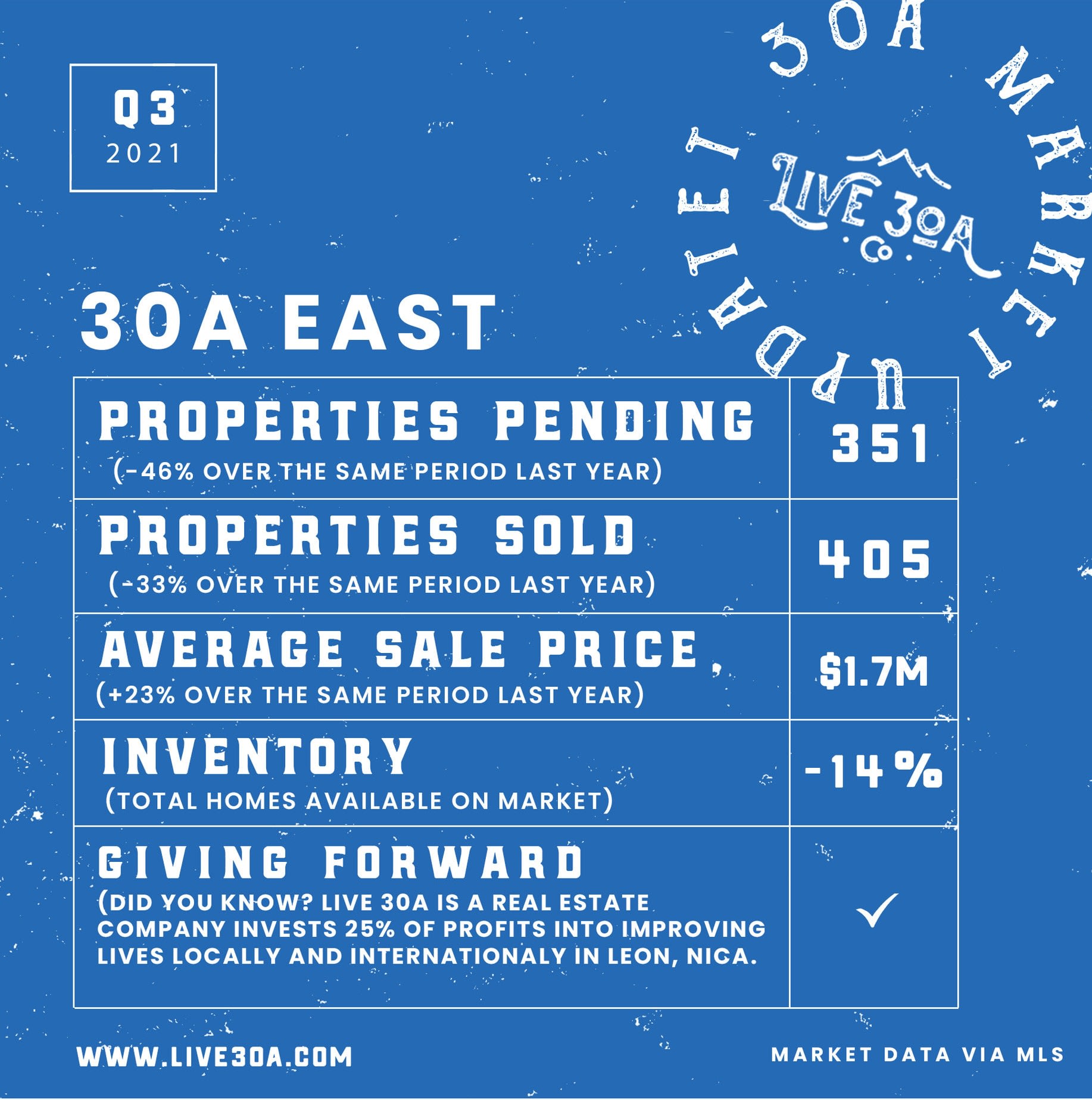 30A West: Grayton Beach, Blue Mountain Beach, Gulf Place, Dune Allen Beach
A Quick Review Through the 30A Market Reports
Properties Pending/Under Contract - while we see the numbers down from the same quarter last year, these numbers are still UP a little bit from what is projected. This is indicative of a healthy market balancing out to a healthy pace.
Properties Sold - As above, these numbers are showing a healthy pace.
Inventory - Still very very low (but not quite as low as last 12 months), this is showing that the 30A real estate market is still in a place where prices will continue to trend upwards.
What Can I Expect Fall 2021 if I Want to Buy a Property on 30A?


While the 30A rental season is continuing to expand with the continued demand for rentals (which is increasing the ROI for homes), and vacationers are coming down now well after summer has "officially" ended -- the fall time is an excellent time for buyers to consider buying their family's 30A beach home for Two Big Reasons:
#1: Homes are finally more available to show, and sellers have already collected the lion share of their rental income. While not guaranteed of course, this typically means that owners have a little more care to negotiate - as they often are excited to think about a new home too.
#2: Finding and putting a contract on a home in the fall allows time to close and spend the holidays at the beach, and begin the important marketing time for vacation rentals in the spring.
Do expect to to have your Realtor also do some digging into the "off market" and "pre-market" homes that may not be searchable on the MLS.
Do not expect to be able to negotiate more than a one to a few % off the listing price, especially if the listing just hit the market. If the home has been sitting for awhile, chances for negotiation increase a little.
Interested in Discovering and Finding Your Family's 30A Beach Home?Begin Your Search and Buy Your Home With Us Here